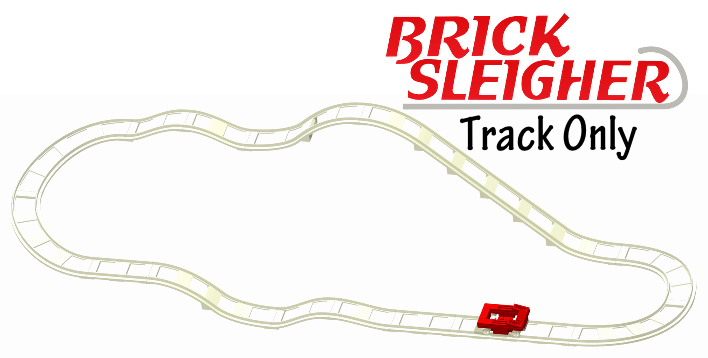 Brick Sleigher Track & Car Set (BC501)
BrickCoaster's® custom track pieces assemble with LEGO® toy bricks for the construction of one of the most iconic amusement park rides; the rollercoaster. This set includes the custom track pieces from BrickCoaster's® Brick Sleigher set. Combine these custom track pieces with your own LEGO® toy bricks to create the Brick Sleigher without the costs of buying the full set. Start by loading your own minifigures into the coaster car on the loading platform. Once all riders are secured, get them started toward the lift hill and roll the car to the very top. Release the car and the thrills as the coaster goes up, down and around the tracks as it makes its way back to the loading platform ready to go again. The Brick Sleigher track set includes the 22 custom BrickCoaster® tracks, a Brick Sleigher coaster car, stickers, and full instructions.
What is included:
Features 22 new BrickCoaster® custom tracks that interlock with LEGO® toy bricks.
Features Red Coaster Car comprised of LEGO® toy bricks and BrickCoaster's Roller Coaster Wheels (BC202).  Seats up to two minifigures (not included). 
Decorative Brick Sleigher sticker pack included containing Brick Sleigher logo, Coaster Car logo and various signage such as "Do Not Stand Up" and "You Must Be This Tall To Ride."
Fully illustrated 24 page color instruction book included showing step by step assembly of the Brick Sleigher. Instruction book also details an alternative simplified construction that greatly reduces the number of LEGO® toy bricks required.  (NOTE: LEGO® toy bricks needed to construct the Brick Sleigher structure are NOT included in this set).
Fully assembled Brick Sleigher is approximately 30" long, 10" wide, and 10" tall.
What is Not included:
Minifigures are not included. Any minifigure pictured is for scale and presentation only and not included. 
The only LEGO® toy bricks included are those needed to construct the Red Coaster Car. There are NO LEGO® toy bricks included to construct the Brick Sleigher structure to support the BrickCoaster® custom tracks which are provided.  Customers will need to use their own LEGO® toy bricks to construct the Brick Sleigher structure.  A full set containing all the pieces need to construct the Brick Sleigher is also available (please see Brick Sleigher full set, model # BC500)
BrickSleigher PDF Instructions (See Pages 22-23)
LEGO® is a trademark of the LEGO Group of companies which does not sponsor, authorize, or endorse this set/or sale.